I did something I'd never done before, starting Wednesday morning, June 20th. I embarked on a solo,  long-distance motorcycle ride. At my destination I'd join other riders to participate in the annual Holocaust memorial motorcycle ride staged by the Jewish Motorcyclists Alliance. Most people chuckled at that — who could imagine such a group? But I was to have a great couple of days meeting and sharing stories with those among the other 200 or so Jewish bikers who made their way to Cleveland. Everything about this experience was a first for me, so here's my story.
Day One
"American Pie" is playing in the tavern on the square in Ligonier, Pennsylvania. The older man to my left answers "Yes, one. Vincent." He's answering my question whether Don McLean ever had another hit after American Pie. On my right, the woman also in on the chat explains she has two Harley Davidsons, but misses riding out West, where she used to live. The bartender, moonlighting when she is not the flight attendant on the private jet of someone wealthy, proclaims how, just last night, she dumped a useless boyfriend, referring to him as Doctor Dick.
Every other store in the little downtown is closed, including the ice cream shop. So I head back to my hotel room. I set up the hair dryer to blow into my helmet, the lining of which got soaked in the rain I rode through for most of the day. I'm hoping my jacket will dry by morning..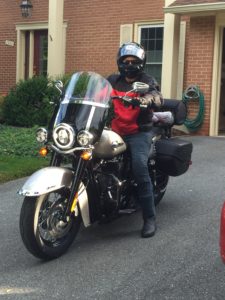 Thus I end a day that started nearly nine hours earlier in my driveway. Robin took a video of my departure for Cleveland. Robin is flying there. But because I'm participating in a motorcycle ride to commemorate the Holocaust, I'm riding to Cleveland. Otherwise I wouldn't have a bike to ride when I got there. I might have been able to make it to Cleveland in one day, but I decided to break up the trip into two days.
I've been obsessing over this trip ever since Robin agreed we should do it last summer. She says its the most expensive trip to Cleveland ever. That's counting the acquisition of a brand new motorcycle. Parked behind the Ramada Inn in Ligonier, my Harley Davidson Softail Heritage Classic is filthy, mud-spattered from the roads of Pennsylvania. It'll have to stay that way until I get home and have a chance to wash it.
On my first leg of the ride, I crossed the county to Route 97 in Silver Spring, turned north through Brookville and straight up to Gettysburg. I stopped at a Harley dealer there to see if they had gators. Good thing, otherwise I'd have ended up with wet boots.
Breakfast at the Lincoln Diner in Gettysburg consists of a fried egg and canadian bacon on toasted rye and flavorless coffee. Continuing on, I ride for about 15 gorgeous, sunny minutes along the Gettysburg battlefields. Then a 15-minute wait in a construction line. I sit there so long I cut the engine. It starts to drizzle by the time the crew lets the westbound traffic proceed.
Hoping against reality, I finally pull over into the parking lot of a fabric store, some miles out of town, to put on my rain pants and new gators. I skip the rain jacket. Sure enough it's alternately drizzly and cloudy for next couple of hours. At a busy Sheetz in McConnellsburg, a drab little town, I refill my tank, get a diet Mt. Dew, and call Robin. I'd parked under a tree at the side of the parking lot. While I was on the phone the darkening sky I'd noticed to the west starts pouring out rain in earnest. I add my rain jacket and with a mental shrug, resume the ride.
I'd never ridden in hard rain. The gear, if you put it on properly and in time, keeps you fairly dry. The tires feel like they have plenty of traction. But the helmet face shield fogs up on the inside and gets covered with raindrops on the outside. It's nearly blinding. I find a clear spot in front of my right eye and squint through it as my window to navigate.
In a word, I'm scared. Who does this at my age? Shouldn't I be seated snugly in a sedate Accord?
On I ride. Route 30 rises and falls in twisting fashion over a series of mountains so I keep rising and falling through thick fog.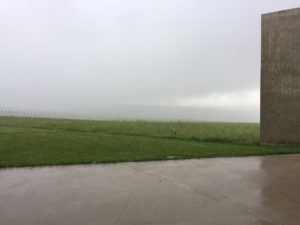 When I turn into the Flight 93 Memorial in Shanksville, the rain has stopped and the sky lightened. The memorial is highly moving, especially the view of the field where the plane crashed. But while I'm in the visitors center, black clouds roll back in and the heavens open. No sense in waiting, I think.  So, rummaging in my saddlebags during a downpour, I put on all the gear, climb on the bike and head off into a storm. I can barely see. I leave my visor open a bit and peer under it, so a lot of rain reaches my face. Plus I worry a bolt of lightning will find its way to the road and that'll be it. A tractor trailer truck falls far behind going uphill, then bears down on me on the downhills. At a flat spot where the road temporarily widens to two lanes, he roars past. In truth I'm glad to follow him up the mountain, figuring he'd push the deer and fallen trees out of the way.
After more ups and downs through the mountains, somehow I make it to a sign: "Ligonier, 2 miles." A few minutes later I'm hanging up things in the hotel room to dry before walking — during an evening spell of sunshine — to the tavern. The Ligonier Tavern cook knows his stuff. I order a steak medium well. It's cooked as tastily and juicily as any steak I've ever had.
I'd ridden about 200 miles solo.
Day Two
Thursday morning, after breakfast in the hotel. I uncover the bike and shake the water off the cover as best I can, repack everything, and say good bye to the smokers gathered in the parking lot. One older gent tells me his basement has totally flooded. Though every surface of the bike is wet, the engine starts right up. I head back down the hill to Route 30. I'm always a little nervous before setting out on motorcycle. But once underway, the weather cloudy and misty, I relax. The road is dry, the woods on either side deep green, the traffic scant.
The morning presents a series of roads, from country, to crowded suburban mall strips, to a superhighway to local milk runs through forlorn Pennsylvania towns. After a couple of hours I think I'd lost Penna Route 66. In the main strip in Leechburg, I pull over in front of a tiny coffee shop with two old guys sitting on the sidewalk outside. I spend a half hour there, kibbitzing with them and the owner, who makes a fresh pot of coffee and pours me a cup.
Now the sun is shining so I stow my rain gear, say good bye and head off.
At a TA truck stop in New Castle, I talk to a group of three bikers, a young man and woman with a really old man wearing a wide kidney belt. They'd started out in New Mexico and are headed to Buffalo, New York. That's a journey, I think.
I spend a long time on Route 422, at times a four-lane highway and at times a local street. It passes through Youngstown, Ohio, a charmless place of nearly complete dilapidation. I encounter lots of local bikers, none of whom wear riding gear or helmets.
Leaving Youngstown and its vicinity, 422 returns to a high speed road. It's 2 p.m. and I want to make Cleveland by mid-afternoon. Robin is already there and checked into the hotel. So I crank it up, and by 2:30 I'm in the outskirts of Cleveland, where 422 turns into Chagrin Blvd. The far outer doughnut of Cleveland had looked like prosperous suburbs. Then you reach the inner doughnut with its decaying look. Then the spiffed-up downtown. Cleveland feels like a small version of Chicago, only there's light traffic in the middle of a Thursday afternoon. Amazing how some of these midwestern cities survived the '70s, '80s, and '90s.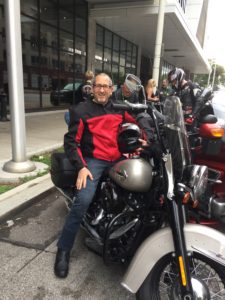 Minutes later I draw up to the hotel, where a JMA volunteer motions me over, hands me a valet tag, and stands on St. Clair Street blocking cars so I can make a U-turn and head into the garage entrance. The second floor is reserved for the motorcycles. I park, switch off the engine, put down the kickstand, and exhale. Another 200 miles and I'd made it to Cleveland. Here I am in a murky parking garage surrounded by scores of motorcycles of every variety. I talk briefly with the owner of the cherry-and-cream Indian Roadmaster next to me, a lawyer from Chicago.
Except for getting lost briefly when I missed a right turn that 422 makes, it had been a perfect riding day. Mid 70s temperatures, every possible type of paved road.
That evening, we connect with Jeff and Julie, friends from Boston who drew us into this event. Jeff is a lifelong rider and came with a group of eight or so cohorts. At dinner they take me in as a guest of their chapter, the Lonsmen. Both me and Robin. I envy their obvious connections, forged in many years riding and hanging together.
The first night's gathering is a sight. A couple of hundred men and women that look like you'd expect bikers to look. Leather vests, some pony tails, lots of hearty beer drinking. And they're all proudly Jewish. There's even a group of Israeli riders.
Day Three
I awake early, wondering how the Rider 2 Remember will go. I'm meeting my new Boston chapter friends in front of the hotel, to ride with them to the staging area. Robin and Julie are on the sidewalk to see us off.
The staging area is about a 10 minute ride from the hotel. It's the parking lot of a lakeside restaurant. Hundred of bikes are already there. But as last year's hosts, the Lonsmen of Boston manage to pull up right behind the host Cleveland (Shul Boys) contingent. Thus we'll be close to the head of the parade.
But first there's breakfast. Everyone is talkative — about bikes, about riding, about this and that. One group from Chicago, at 8:30 in the morning, is smoking cigars with breakfast.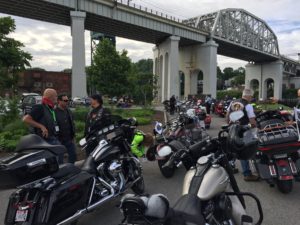 Soon we're called to attention for a safety briefing from the Cleveland police, who will escort the ride. Then everyone scrambles to the restrooms then to the bikes, pulling on jackets, helmets, gloves. Then the lot bursts into the sweet thunder of hundreds of idling motorcycle engines. The majority are Harleys, but Indian, Ducati and BMW are well represented. I also spot a few Japanese sport bikes, a couple of Triumphs, the occasional Victory.
The route starts off by heading through a still-working steel mill. The parade is halted for a few minutes when a railroad crossing gate comes down. Only the first few bikes make it through, so they wait beyond the date. Those of us ahead of it get to see a yard locomotive pulling a half dozen ancient, torpedo-shaped cars bearing molten steel.
Most of the ride runs through parks and villages in the Cleveland vicinity. The motorcycle police do a fine job of keeping traffic at bay and intersections open. It is the coolest thing to ride in an escorted event like that, even if the pace means you never get out of 3rd gear.
After two hours or so everyone pulls into the parking lot of Temple Tiferith Israel and the adjacent Maltz Museum of Jewish Heritage. Known as The Temple, it's the descendant of the congregation where my father avocationally taught Hebrew school some 60 years ago,
Riders have lunch, hear from Rabbi Rosie Hiam and also Rabbi Joshua Skoff of Park Synagogue. Rabbi Skoff cites biblical stories illustrating what might be called the muscular side of Judaism. We also hear from Holocaust survivor Stanley Bernath. He's one of 15 survivors being recorded as a hologram for questioning by future students, after he's passed on. I'm gratified to find the 200 gathered bikers give respectful attention to the Jewish content of the weekend.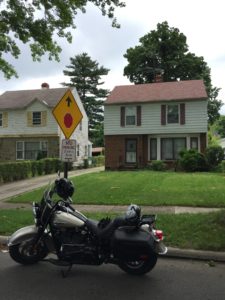 After the conclusion of the program, I ride with a couple of guys to the local Harley dealer. I buy a sleeveless, store-branded T-shirt and check out an unusual feature for a motor vehicle dealer: the in-house diner. Then I ride a few more miles, using my phone for navigation, and find the house my family lived in when I was born in 1955. The neighborhood of straight streets and little two-story houses remains trim and quiet. "My" house on Invermere Avenue needs some cosmetic work. The garage my father added some time around 1950 has disappeared. The shades and curtains are drawn. No one answers the door. I speak with the slightly suspicious boys throwing a ball around across the street. Their cheery mother pulls in the driveway and I chat with her for a few minutes. She doesn't know the man across the street, but says it's a good neighborhood. Although that week a little girl had been killed in crossfire during a shooting just a couple of blocks away. She says she hoped her four boys would stay away from guns. Thomasina and I shake hands and I ride off to the hotel.
Dinner that night combines with some semblance of a Shabbat service, music by a Jewish, rock-style band with a touch of Klezmer. A great evening.
Day Four
Up again early, on my bike in front of the hotel. Saturday is the day for organized rides. Off we head to join one of three rides organized by the Shul Boys. Weather is good, at least for now. About 30 miles in we stop for what is supposed to be an hour's visit to the mansion built by Frank Seiberling, the founder of Goodyear Tire & Rubber. While we we're touring the house and grounds — a sort of Biltmore of the Midwest — once again the heavens open.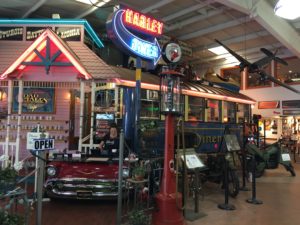 After an hour's delay, the ride resumes. Leaving the parking lot requires going down a short, gravelly slope. It's difficult enough to negotiate, but an erratic gate keeps opening and closing, seemingly with a mind of its own. As I try to get by it, down it comes, brushing my back. In the confusion of divided attention, I drop my bike. A couple of guys dismount to come help me right it. No damage to me or the bike, only to my ego. But several exiting bikes later, another guy — with his wife on the pillion — drops his orange Harley in the exact same spot.
The ride doesn't go well after that. Sections become separated. At one point the leader zips through a traffic light everyone else misses and we have trouble finding him. Finally at about 80 miles, ten of us find ourselves waiting along a boulevard for the other 20 bikes to show up. They never do. Now it's warm and sunny. So several of us depart without the leader to deadhead back to the hotel.
Moments later, on a highway a few miles from downtown, a SUV pulls up to my right, an arm pointing at my bike and the driver shouting something I can't quite hear. I pull over to the shoulder and discover my saddle bag has popped open. Closing it firmly, merging back onto the highway, soon I'm on the 9th Street exit and then into the garage.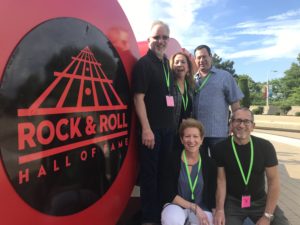 That night is the JMA's night at the Rock and Roll Hall of Fame, perhaps Cleveland's greatest attraction. The JMA and the local clergy conduct Havdalah on the upper balcony of the museum with some R&R greats glaring down from quadruple life-size pictures. At the buffet dinner Robin and I talk with two younger riders from New York, one an Orthodox Jew at home but slightly rebellious on the road.
Robin and I call it a day after a couple of hours poking around the exhibits, seeing the guitars, drums, keyboards, stage outfits and other detritus of both bygone and current rock and roll stars.
Day Five
The thing about a long motorcycle ride is, at some point you have to turn around and head home. So Sunday morning I brace for another couple of days of riding alone. My Boston compatriots, who had longer to go, had left at 5:30 and would eventually ride until 9:30 that night through storm after storm to make it home the same day.
I take it leisurely at first, starting with the more northern U.S. 322 heading east. Nice weather, partly cloudy, very light traffic. I start on a nearly deserted St. Clair Street out of the hotel, having the whole boulevard to myself. At one light, a big box truck pulls up next to me and the driver says he wishes he had a bike like mine.
Soon I'm out in the country on a road alternating between 45 mph and 55 mph zones. After an hour or so I stop for breakfast in Jamestown, Pennsylvania, where I have corned beef hash with two hot, runny fried eggs. One of the waitresses is wearing a Sturgis T-shirt, a souvenir from the giant annual motorcycle rally in South Dakota.
From 322 I turn onto Pennsylvania Route 58 heading south, and on to Route 19 in Mercer. When that reaches the outskirts of Pittsburgh and starts to feel like crowded suburbia, I opt for I-79, a four-lane, high speed road. It connects with I-68 in Morgantown, West Virginia. That in turn connects to I-70 in Hancock, Maryland.
I'm still not really comfortable on the 70 mph roads. The curves seem sharp for that speed. Most of the cars and trucks pass me, and I feel sharply buffeted by the wind. At one point a group of about a dozen motorcycles filters past, giving one another hand signals, ignoring the sedately-paced me.
On one two-mile stretch of road, it had rained. Heading downhill a truck passes me and throws off a dirty spray.
By Cumberland, Maryland, it's late afternoon and I'd had enough for the day. I decide to pull into town. From a parking lot I see a Ramada Inn right in the "historic" downtown, so that's where I book myself. I find a great parking space right in front. But before that I stop to fill my tank. Two young dudes on fast sport bikes are parked on the other side of the pumps. They acknowledge me with a helmet nod. One walks over and admires my Harley. But he says, "That sure isn't built for speed like ours." I agree and they wish me safe travels. Actually I don't know how fast my motorcycle can go. At 70 miles per hour in sixth gear the engine is running at something like 2,800 rpm, but it doesn't redline until 3,700 according to the manual.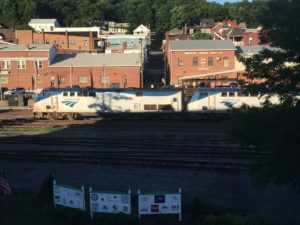 My room overlooks a side street which, judging from the bikes constantly roaring past, could be called Motorcycle Alley. Beyond the street is Cumberland's rail yard. Beyond that, on the other side of the tracks, I see a VFW hall and what looks like a shelter of some sort, judging by the people milling around. The rail yard is busy all night. I love the sound and sight of trains. At one point in the evening an Amtrak long-distance train stops for a few minutes. I can see people seated and eating in the dining car.
Sunday evening in Cumberland is quiet. Few people are out and about. But an Italian restaurant is open. I sit at the bar and have my requisite gin martini. The bolognese is amazing.
Day Six
Early morning, time to head home. After a waffle in the hotel breakfast area, I make several trips to my bike to stow everything and make sure to secure the external luggage. I check and find the tires need air. I prowl the empty streets of Cumberland to find an air pump. While I top off my tires, I notice an exquisitely painted, yellow Harley bagger parked across the street in front an old brick house. A gray cat in the window watches me. Minutes later I climb the ramps out of town and am back on I-70.
All morning the sky keeps changing from sunny to threatening. Eventually the sun seems to come out for good so I pull off the highway and find a little local park to stop at and switch to sunglasses. Back on I-70, on I roll until the split to I-270 in Frederick — nearly there! By now I'm in Monday rush hour traffic, at times stop-and-go. I'm glad to have the maneuverability of a motorcycle. When 270 widens to three then four lanes, I'm alongside the tractor-trailer I'd been passing and getting passed by since shortly after Cumberland. He'd roar down the hills at 80, and I'd pass him on the uphills.
By and by I slip into the local lanes in Gaithersburg,  and minutes later exit to Falls Road and into my neighborhood.
I have a routine for getting into the garage. I turn into the driveway and stop at the bottom. I toe the shifter into neutral so I have a free hand to push the garage door opener button in my jeans pocket. Into the garage I roll, put down the kickstand, shut the bike off, lean into parked position — and exhale as I had in the Westin Hotel garage.
I'd ridden 1,019 miles — about 400 miles each way to and from Cleveland and another 200 while there. Two years ago I was struggling to pass the motorcycle skills test for my license, and now I'd just done a long distance solo ride. I learned that when it comes to riding, you never stop learning. I decide I'm okay going a little slower if I gain added assurance of an extra safety margin.
I also learned how kind and welcoming people can be to strangers. Check out this column I wrote on that account. While challenging, the trip didn't end up presenting any hardships. What if I'd slipped and crashed in the driving rain on the curvy Route 30? What if I'd gotten a flat tire early Sunday morning in the Ohio countryside away from Cleveland? It all works out, though. I spend part of the sunny afternoon, after my engine has cooled off, lovingly washing the Harley and thinking about where to go next.