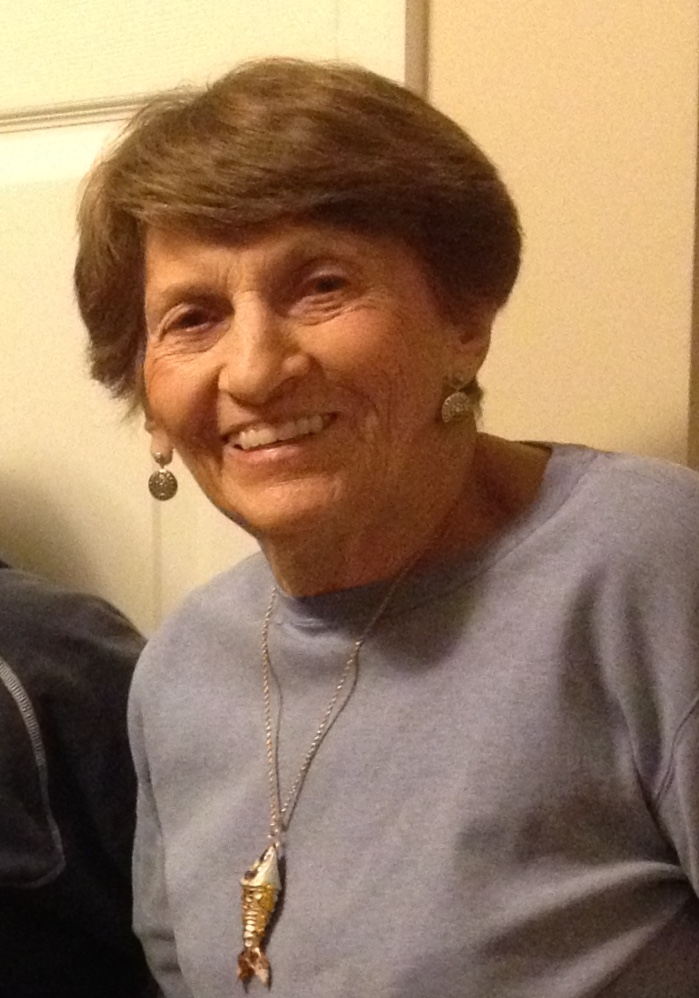 Eulogy delivered at shiva services, December 14, 2020
Esther was born Esther Hannah Crowell in Washington D.C. on June 23rd, 1925 to Sarah and Louis Crowell. They lived at 4212 7th Street Northwest. Her younger brother Alfred, known by nearly everyone as Sonny, passed away in 1991. Her growing-up years in Washington were marked by rides on itinerant donkey carts, going to school on the old D.C. trolleys, and roaming on the wooded grounds of the Old Soldiers Home.
She graduated from Theodore Roosevelt High School in 1943 and from the George Washington University with a degree in English in 1948.
Esther met Samuel "Bud" Temin at a dance in D.C. not long after World War II, and by August of 1947 they were married, moving to an apartment in the Normandie at 6817 Georgia Avenue northwest. Bud's budding career took them to Cleveland, Ohio in 1949, where my sister and I were born. The family lived at 17403 Invermere Street. It was a quintessential 1950s, Post-War start in life. Two story colonial house, with three bedrooms and a kitchen tiled in pink and black. A Chevrolet in the driveway. By 1959 dad's industrial chemistry career took them to Pittsburgh, where he worked for the Koppers Company. A bigger house in a nicer suburb.
In 1965 the family moved to Needham, Massachusetts, following my father's final professional relocation. It was where I really grew up.
By the time of my dad's retirement in 1985, they had property in Florida, to which mother and dad moved full time a few years later, enjoying a long post-working life of old friends, children and grandchildren visits, and the activities those of the Greatest Generation enjoyed.
My dominant impression, feeling, memory – Esther was a terrific mother. One whose protection and love I never doubted. Often we harbor difficult memories associated even with those we love. My only difficult memories of my mother are the stupid things I did or said growing up. She actually baked chocolate chip cookies that came out of the oven to coincide with my sister and my arrival home from school.
By the way, my mother was a more-than-competent cook as well as a meticulous housekeeper. I may never taste anything like her baked steak again. Strangely, she wasn't much of a foodie herself, often delighting in such exotic gourmet delights as McDonald's fish sandwiches and circus peanuts.
Mom could be emotional. One day, while my dad was still at work, we received a letter from the Gulf Oil Company sweepstakes informing us we'd won a 23-inch Motorola color television console. Mom, Harriet and I must have danced and shrieked for a solid 15 minutes.
Our mother knew tragedy and loss. A difficult miscarriage and then a stillborn child in between my sister and I left a small but permanent dark spot in her psyche. But it also left her with great courage, the capacity to soldier through the setbacks and losses all families experience. My own birth was complicated. Once in a while she would recall hearing, through the fog of ether, which they still used as an anesthetic in 1955, the doctor delivering me giving urgent orders to the nurses helping him, saying, "We don't want to lose this one."
Esther had a career of her own, going back to work when I was about 11 or 12 and Harriet was in high school. She worked at a couple of local companies – Norman Associates right near our house, for the regional vice president of Upjohn, and for a long time a father-and-son law firm on Highland Avenue in Needham. She worked to cover the cost of my education at RIT.
Normally mild mannered, mother could turn as fierce as a mama eagle if some crow approached the nest. Long ago in Pittsburgh, we had a dentist who didn't believe in Novocain. My sister and I still think of him with horror. Once during a particularly bad drilling session, the doctor left me open-mouthed and halfway finished to take a telephone call. It was from his stockbroker. Suddenly, unexpectedly, my mother barged into his office and lit into him with both barrels, for having the temerity to inflict pain on her children and be callous enough to prolong the session to take a personal phone call. I mean, she yelled, really chewed him out. It was the last time we went to Doctor Winkler of Pittsburgh. And the last time I ever had a filling done without Novocain.
Mother could also be ludicrously funny. Once I was sitting in the front seat of our 1955 turquoise and white Chevy Bel Air in our driveway in Pittsburgh. A neighbor across the street had just delivered a baby girl. Their six-year-old boy was approaching the driver's side of the car. My mother commented, if he tells me he's got a new baby sister one more time, I'm going to scream.
Sure enough, Wayne came up to the open car window and said, "Mrs. Temin, my mother just had a baby girl." My mother let out a long, theatrical shriek. I can still see the furrowed and horrified face of that six-year-old, backing away from the car in utter bewilderment.
As the years rolled on and led to the aforementioned move to Massachusetts — mother gamely following dad in his career – they soon established a whole new and close social circle in an entirely new town. It was during the first year in Needham, Massachusetts that I realized how resolved, even tough, my mother could be. My folks had friends named Cotton. One day Joe Cotton challenged my mother to join him in quitting smoking, cold turkey. He made the challenge at our dining room table on Greendale Avenue. Mother accepted, tossed out her remaining Kent cigarettes, and from that moment never smoked another cigarette. That was in 1966.
Earlier, my sister and I had the sense that my dad was for Kennedy, my mom for Nixon. For as long as mom retained her mental faculties we'd ask, Did you vote for Nixon in '60? And she would invariably answer with a touch of mischief, "You'll never know." And – we never will.
Mother created an unforced, classic family life of Seders, Thanksgiving dinners, Hanukkahs, birthdays. There were driving lessons, her cars always available to Harriet and later me. We called them the Mama-dooey cars. Yet, my younger parents could party. I remember one raucous New Year's Eve at our house in Pittsburgh. My sister and I, 10 and 5 that year of 1960, made our own party at the other end of the house in the den. Harriet fashioned a sort of pinata from a cardboard box marked with the new year, on a string across the room, and tipped it over to empty its contents right at midnight.
Esther and my father made a Jewish home, seeing after Sunday school, my bar mitzvah, Harriet's and my confirmations – and her own long involvement in the local Hadassah chapter.
For many years, mother shlepped my sister and me to piano lessons every week, me with Mrs. Charlotte Mallet in Pittsburgh and later to Saul Stern in Newton, Massachusetts. Harriet took lessons from the more glamorous Gloria Spiegler. I learned Für Elise, Harriet learned Slaughter on 10th Avenue. Mrs. Mallet staged a recital one year. I was 8 or 9 years old. But Mother could not attend, called instead to Washington because of the untimely death of her Uncle Aaron Crowell. Mom, I started the Hungarian Rhapsody an octave high, but finessed it so it sounded like that's how Rachmaninoff wrote it.
For a few years my sister and I played duets. The trick was knowing when to start simultaneously. Mother would stand behind us, a hand on top of each of our heads. "You'll know when to start," mom said. With that, she pushed down on our heads all at once, signaling the start of Turkish March.
During high school and college, I worked for the Needham Park and Recreation Department. That meant Mother and I could occasionally meet for lunch. We'd go to a Chinese restaurant on Chestnut Street. Platters of chop suey, chow mein and an egg roll plus oolong tea cost 99 cents each.
I enjoyed her company all the years she was Esther.
Luckily her decline held off until she could really get to know her four grandchildren – Sarah, Ben, P.J. and Janice. She even retained her sentience long enough to see and hold her oldest great grandchild Esther Bayla, who called her Gigi. 
Our dining room wall is decorated with plates my mother hand painted during her Florida good years. She painted so many blank objects that my father bought her her own kiln, so she could glaze and fire these objects. Alas, you can see her decline in the decreasing quality of the painted objects in her final years.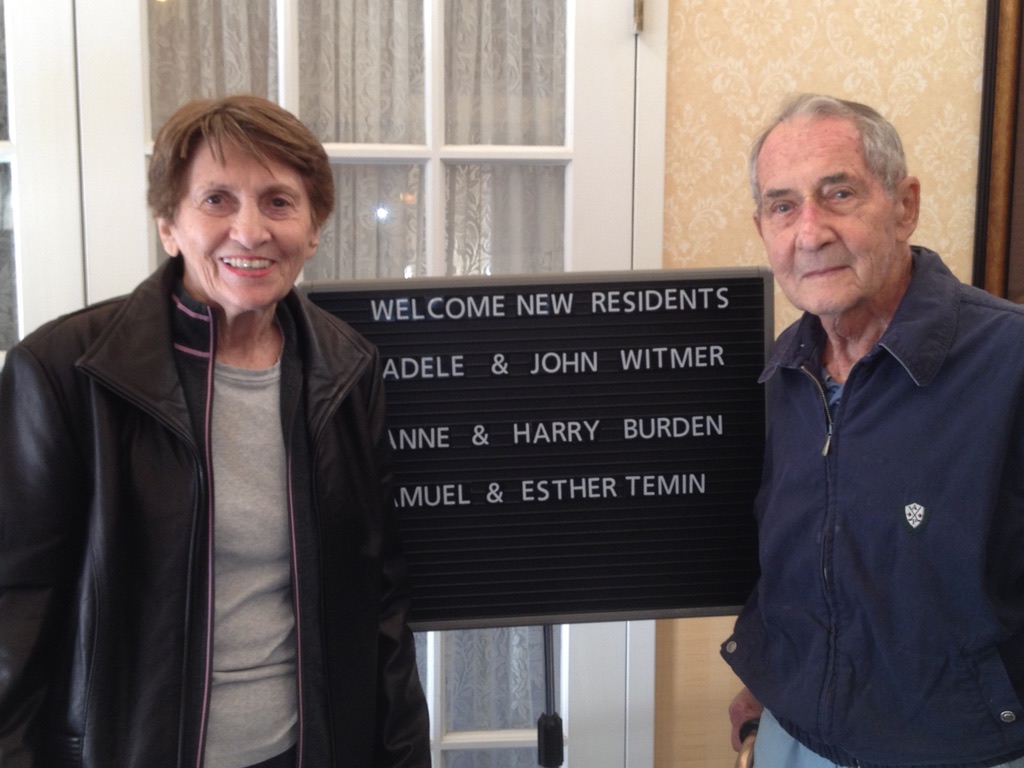 It was during what would be my parents' last year in Florida, during a winter visit, that we realized my parents' final decline had crept in and settled. I will always regret the seemingly harsh but, in retrospect, necessary step of getting them to sell the Florida home and relocate a final time, back here in Maryland into independent senior living. My father, alas, only made it another six weeks. After his death in 2012 — just before their 65th anniversary — my mother's dementia accelerated rapidly.
Among its many cruelties, dementia makes loved ones mourn twice. First when the victim's personality, ability to communicate, and physical integrity vanish. Second when the body itself gives out. Now I have so many questions I wanted to ask, things I wish I'd said before mother slipped away. 

I've prayed to and argued with the almighty quite a bit over this. What purpose, I've asked, is served by treating a member of your flock like this? Maybe it's a test. Not for the person robbed of discernment and the ability to make moral choices, but rather, a test for us. Do we have the fortitude to keep making the right choices — to be there for the person, to advocate for them? 
Some time ago I prayed to the eternal one, genug. Enough already. Especially when the pandemic barred us from even seeing her more than occasionally.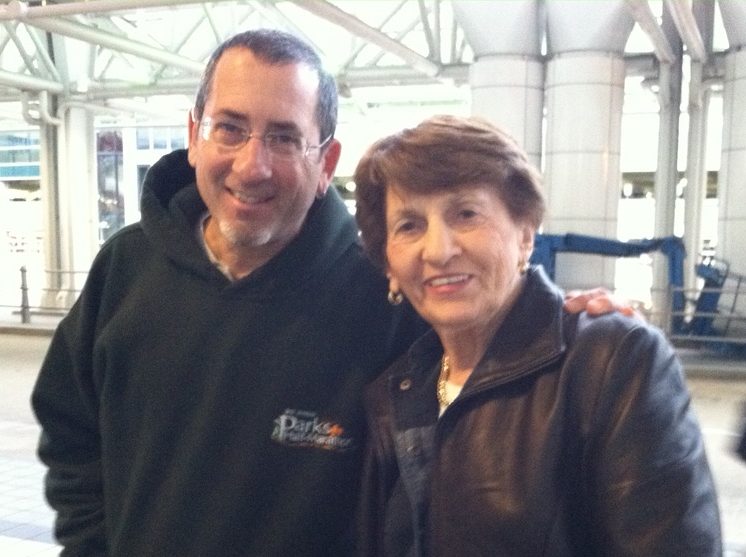 Today I don't thank God for taking my mother's life, but rather that, in infinite wisdom, Hashem chose to gather mother to her eternal reward under the everlasting shelter of God's wings. As we commend her soul to God, Esther's life, her capacity for love and to be loved will remain in our hearts so long as we remember her.
I mentioned Esther's courage a moment ago. And so I close with this short verse from a poem by Edna St. Vincent Millay:
Oh, if instead she'd left me
The thing she took into the grave!-–
That courage like a rock, which she
Has no more need of, and I have.
–December 14th, 2020