One thousand thirty one miles. My trip odometer showed that number when I pulled my Harley-Davidson Heritage Classic into the garage after a 300 mile ride home from North Carolina's Outer Banks, following a six-day getaway.
I've gone further in shorter periods. The difference for this trip was profound: My wife Robin joined me on the pillion for a vacation we'd postponed from April — when the Outer Banks authorities closed the narrow strip of vacationland because of the pandemic.
The Tuesday of departure, I spent the morning at work, sustaining a constant low-level adrenaline flow from concern about the trip. We've got family, grandchildren. Who at our age (I'm 65, Robin not quite) starts taking long trips, two-up on a motorcycle? I recalled the time a dying Franklin Roosevelt told Harry Truman before the 1944 campaign to take trains, and not to fly. "One of us has to live," FDR said. Whatever, what a difference, I thought, from the days when we loaded up the kids, bicycles, kayaks and canoe in and onto the minivan!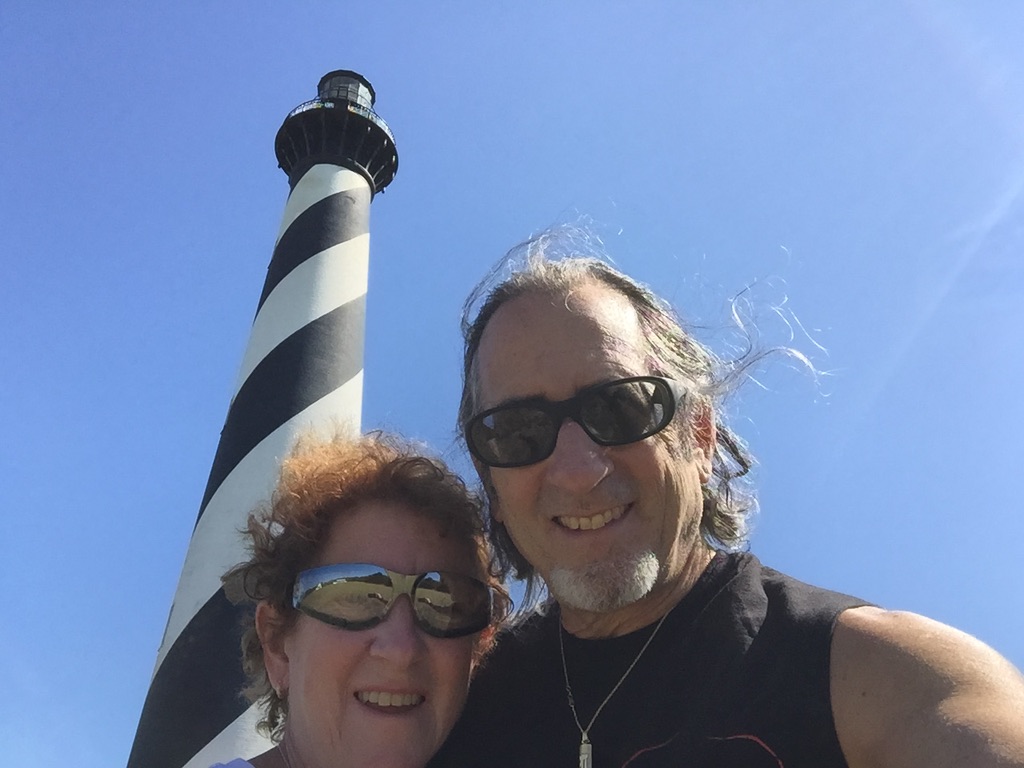 But when I got home in the early afternoon, Robin was ready to roll. We'd mounted my big, vertical sissy bar bag the night before, containing each of our carefully chosen allocations: One pair of running shoes, one pair of flip flops, one pair of jeans, one pair of shorts, a couple of T-shirts, underwear and socks, and abbreviated toilet kits. That plus saddle bags stuffed with chargers, Kindles, sunglasses, Leatherman tool, Swiss army knife, rain suits, a book each, and motorcycle-related detritus, made for a heavy feeling bike even before Robin swung her leg over.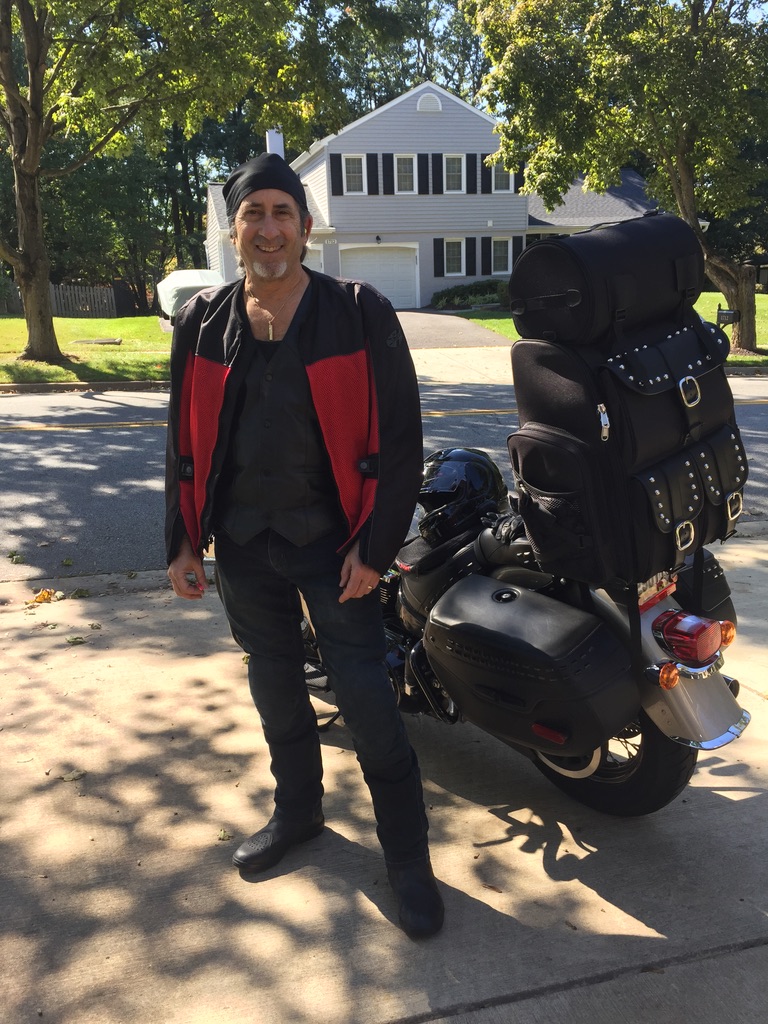 We only started riding together this past spring. I didn't have confidence enough until then. We started with a half hour of drills in a local parking lot. Left turns, right turns, U-turns, starting and stopping, speed bumps. Then a 12-mile loop around the area. Then two hour rides with friends. Then, this summer, a 200-mile day trip down to Maryland's Solomon's Island and back, stopping for lunch in North Beach. Then a one-night overnight to visit my sister and brother-in-law at a cottage colony on the Severn River near Annapolis. That one added the element of luggage.
But today we were really loaded. My worry subsided once I turned onto the street and we were actually under way. With crystal skies, warm October temperatures, and a full tank, our destination for the first night was the historic George Washington Inn and Tavern in Princess Anne, Maryland. Our route took us over the wind-whipped Chesapeake Bay Bridge, a first for me on two wheels. Then back roads to where we refueled right off U.S. Route 13. Just gorgeous, low-traffic riding on a brilliant afternoon.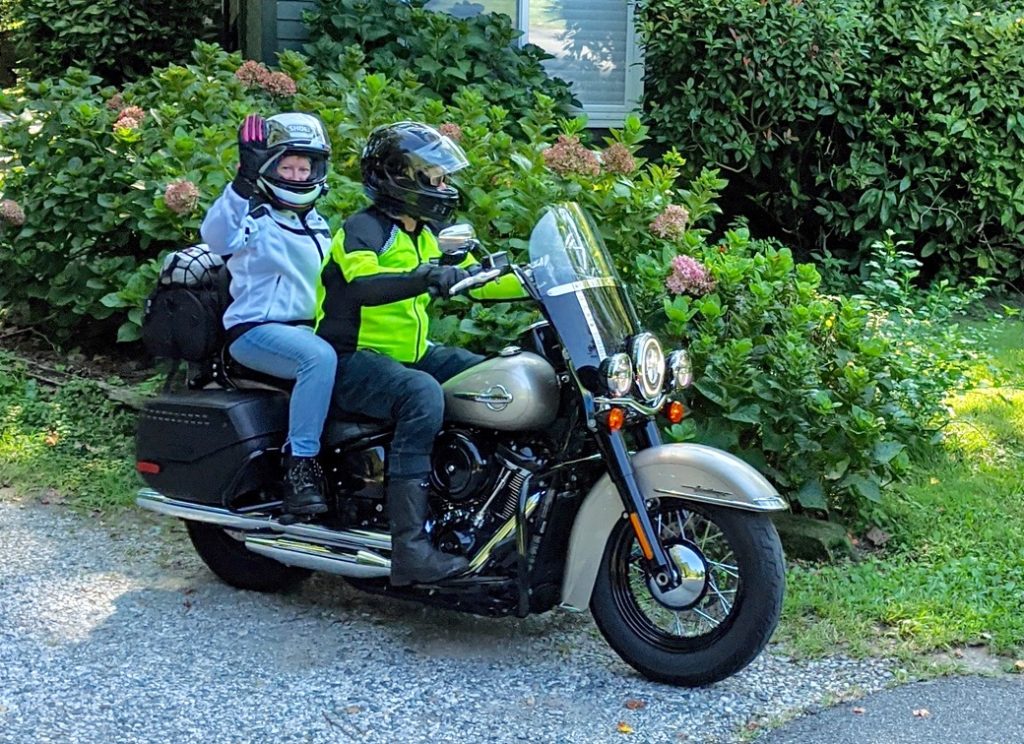 Arriving at the Inn in late afternoon, we found its tavern part was closed Tuesdays. I think maybe two other rooms were occupied. We unloaded everything, checked into our large room, and rode back out to highway 13, about a mile, to a strip mall with a surprisingly good Italian restaurant the Inn manager had recommended. It was dark when we returned to the Inn, but I could park the bike right on the deserted main street in front of the hotel.
Talk about a one-horse town. Literally nothing open. In the morning, luckily the tavern was open for breakfast. (First I checked that the bike was still there.) We chowed down eggs, hash browns and coffee, while chatting with the waitress and learning her life story. Two local townies sat at the bar for breakfast. We reloaded the bike, headed back out to Route 13.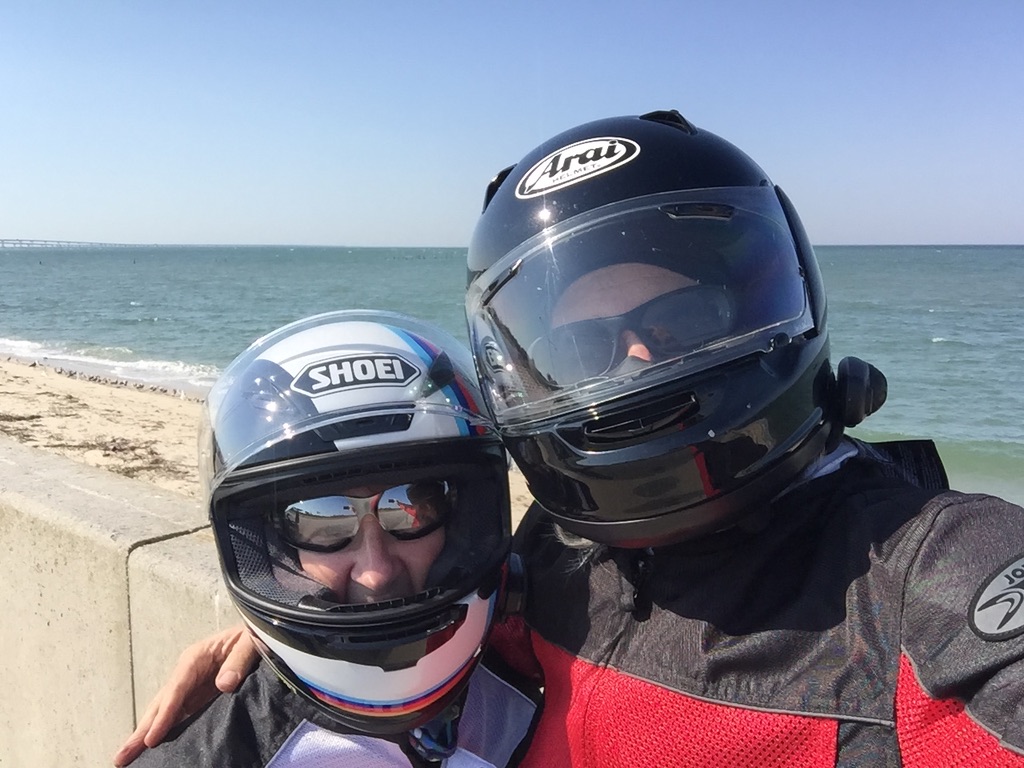 The next big sight was the famed 18-mile Chesapeake Bay Bridge-Tunnel. Having ridden in 2019 from Homestead, Florida to Key West, I found the Bridge-Tunnel nevertheless impressive, with great pavement. Gulls perched along the guard wall, nonchalant about the traffic rushing past them. Then a tour through the busy Norfolk-Chesapeake area on local roads, picking up 168 into North Carolina. We took the old, local road with the same number. That runs into 158 and a long run to where you cross Currituck Sound and enter the Outer Banks. We arrived at the Sea Ranch Resort in Kill Devil Hills about 2 p.m. The desk lady said no problem when I asked if we could park the motorcycle under the entrance canopy.
We made it, I thought. I was grateful for the act of faith on Robin's part for trusting me to ride us there safely.
After lugging all the stuff up to our fifth floor room, Robin flung open the curtain to reveal a clear view of the beach and Atlantic ocean. Opening the door to our balcony let in a rush of sea air and the sound of a vigorous surf. After a visit to the beach, we gorged on shrimp, wine and beer on the hotel restaurant's little patio next to the dunes.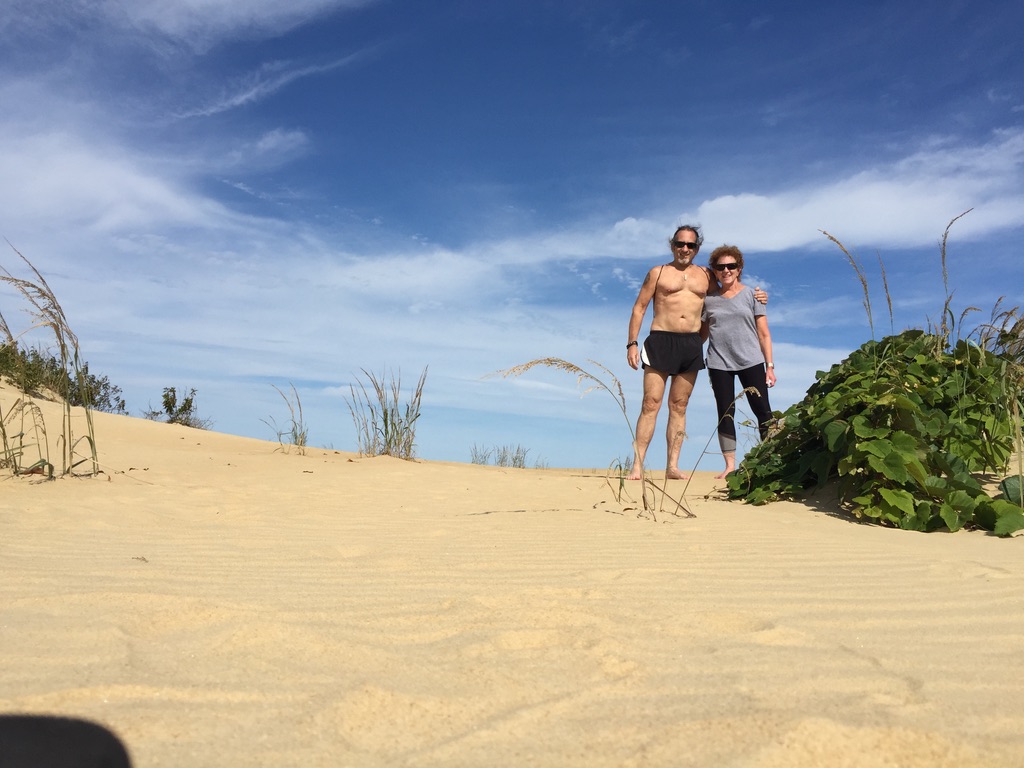 Thursday we rode down to Hatteras and visited the famous lighthouse. Then we spent a long time walking on the beach, napping, and having an early dinner of half-priced burgers in the restaurant. I was startled because it was the hottest burger I've ever been served, the juice burning my hand. Unexpectedly, the restaurant at the Sea Ranch is so good, many locals eat there.
Friday we rode over to Roanoke Island, exploring local seaside parks and some of the historical sites, like the small federal museum devoted to the lost colony of 1587. Cornily, I bought a U.S. Park Service passport so I could start collecting stamped cancellations. The cheerful rangers that staff the national parks large and small really constitute a national treasure. Great lunch on the cool porch of a restaurant in Manteo, chatting with locals. Later, back in Kill Devil, we clambered barefoot through Jockey Ridge State Park, home of the largest sand dune on the East Coast. Like a miniature Sahara Desert blocks from the crowded strip that is Route 158. Dinner that evening was more beer and wine together with steamed clams, spiced shrimp and raw oysters at Goombays Grill and Raw Bar, close enough to our hotel to walk.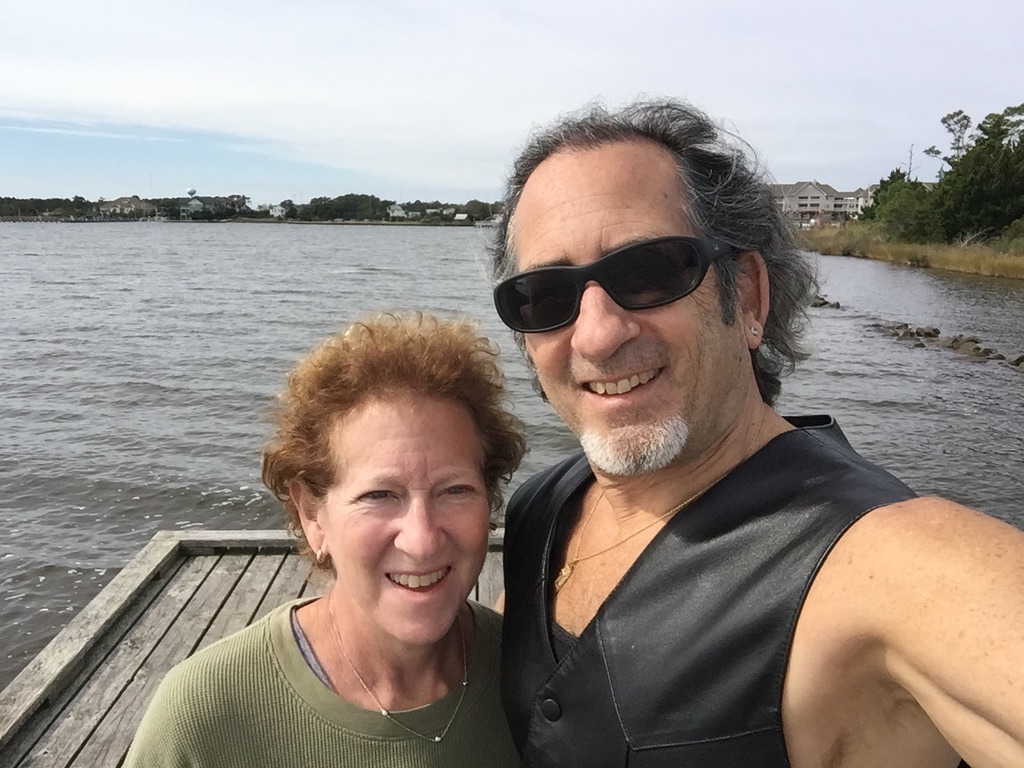 Early Saturday I ran from the hotel to the not-yet-open Wright Brothers monument park. The workers there paid no mind to the runners and bicyclists who wandered in before hours. My run included the distance of the first three Wright Brothers flights. I paused a while at the life size metal sculpture of the Wright Flyer. Later that morning we embarked on a long loop across Roanoke Island to the peninsula formed by Albemarle Sound on the north and the Pamlico River on the south. It looked interesting on the map. Mostly it was cruising down straight roads bordered alternately with farms and woods. Barely a house, much less another vehicle. I was glad I'd thought to gas up first. I did slow down several times to honk at vultures feasting on road kill.
Returning to the OBX in mid afternoon, we barely made it to Capt. Frank's in Kitty Hawk before closing, a place we remembered from a vacation there when the kids were little. It specializes in hot dogs with about 40 possible accompaniments. Plus, to my delight, they served Diet Dr. Pepper. Not so much a hot dog lover, Robin had barbecue. The owner and son of the original Capt. Frank stood by our table, regaling us with stories of business history on the Outer Banks — and, of course, his own long-ago Harley.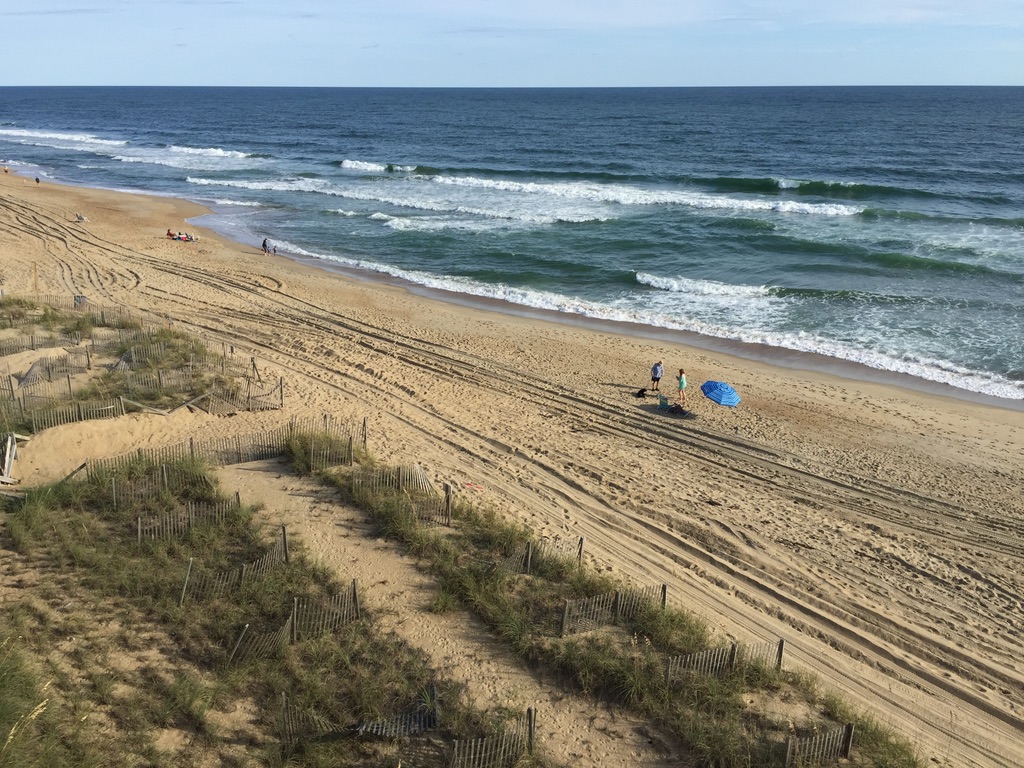 Sunday morning, our return day, came with unsettling forecasts of rain all the way. So we saddled up the bike and rolled out of the hotel by 7. This was going to be a highway haul to get home, not a meandering tour. We donned our rain pants before leaving. It wasn't until our first gas stop after about 150 miles that we needed the rest of our rain gear. It rained along U.S. 64 and 95 after the Richmond bypass, but was mostly dry by the time we reached Northern Virginia. By the time we reached the Beltway we knew we'd beaten the worst of the rain.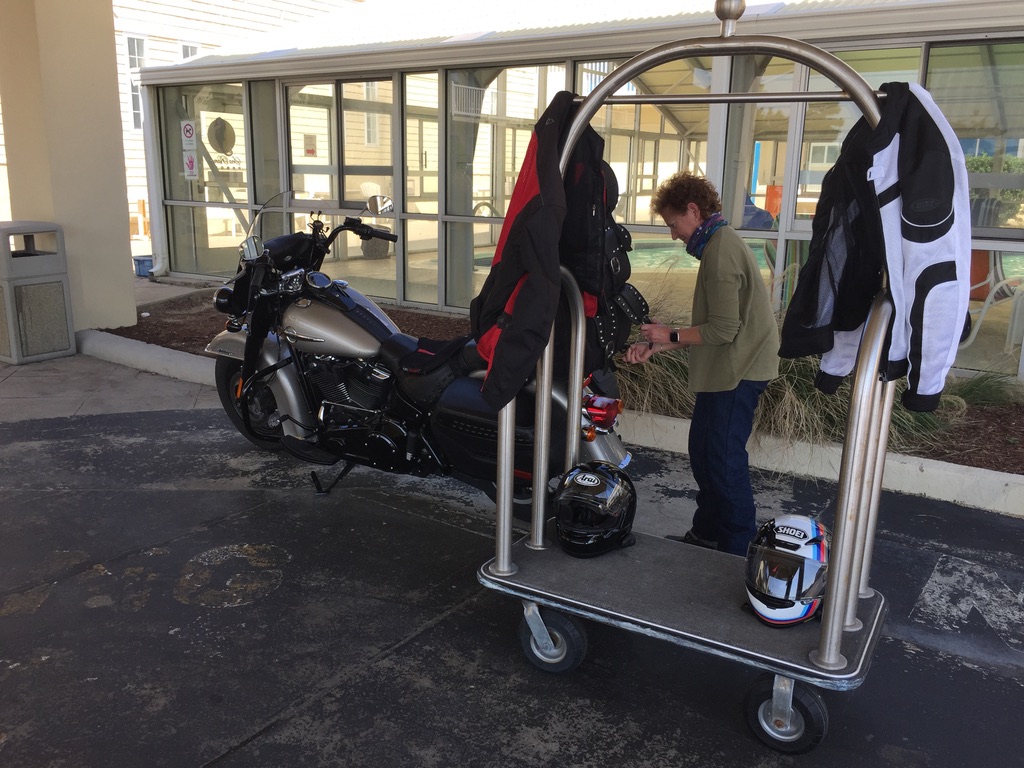 I turned the Heritage into the driveway. Robin hopped off and I nudged it into the garage. I sat for moment listening to the familiar sound of the Harley's air-cooled engine ticking and clacking as it dissipated the heat from a 300 mile journey leg. What a joy to have my honey join me on my horse.